The ultimate evolved highest speed general purpose automatic packaging machine in the world
Max single 160 bags/min capacity is achieved
*According to GP research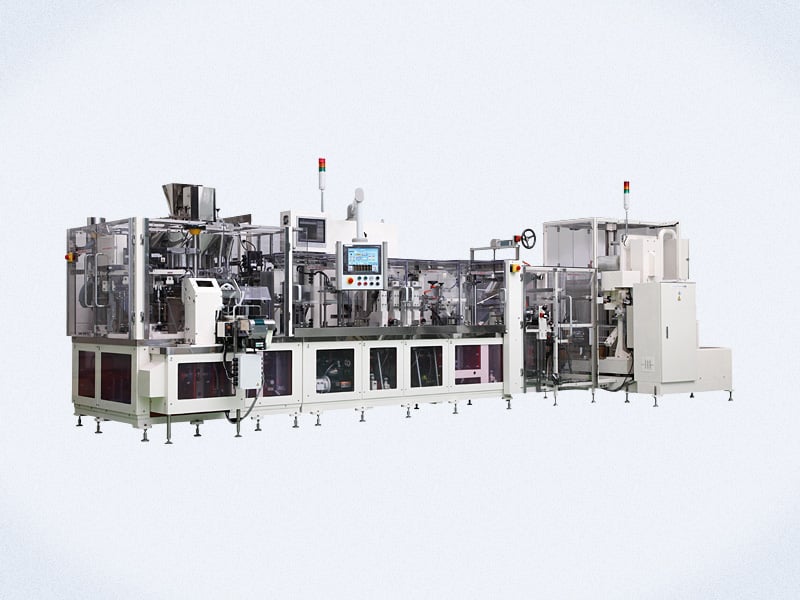 Adopting multiple sealer, stable finish is achieved

12 station table is adopted

Inspection equipment is available to be added in rotary table.

Vertical seal adjustable on-board

Vertical seal position is adjustable in operation.

Film feeding device on-board

It is possible to fine-tune the film height on the touch panel in operation by electro pneumatic control.

Gripper width automatic adjustment system on-board

Gripper width is adjustable on touch screen.

Top sealer and cooling sealer open and close mechanism on-board

Cleaning task is exponentially improved.

Pursuit of security

The security against the entrance of foreign material is ensured.
SPECIFICATIONS
Applications
Seasonings, powder soup, etc.
Capacity
Max. 160 Bag/min (depend on products)
Bag size
Width: 70 - 150mm
Length: 90 - 250mm
Filling capacity
Up to 500g
Products form
4 side sealed & 3 side sealed pouch
Machine dimensions
(reference)
Width: 2,011mm
Length: 5,838mm